Auxane
Original tutorial Here
This tutorial is written by Valy Scrap Passion the © is from her.
You're not allowed  to copy, link and / or place these or parts of it without her permission.
The © ️ of the materials wich are used is for the rightful owner.
If you want to use this tutorial on your own  forum, club or group, you have to request permission from the writer herself.
If this tutorial looks like another, it is purely coincidental.
We have permission to translate Valy Scrap Passion tutorials into English.
Thank you Valy for the permission to translate your tutorials.
Nous avons la permission de traduire les tutoriels de Valy Scrap Passion en anglais.
Merci Beaucoup Valy , que je pouvez traduire vos tutoriels en anglais.
Her site

Materials Used:
1 Font – MTCORSVA   Install the font if you want to make your own text
1 Preset – Shadow1-Auxane-VSP  Double Click on the preset , It will be imported automatically
1 Alphafile – Alpha-Auxane-VSP
1 Color Code – palette couleur
1 Mask – Narah_mask_0670
1 Mask – LF-Mask-183
1 Tube – Titre-Auxane-VSP
1 Tube – Deco1-Auxane-VSP
1 Tube – Deco2-Auxane-VSP
1 Tube – Deco3-Auxane-VSP
1 Tube – 13458167154_femmes_nikita
Download Materials Here
Plugins Used:
AAA Filters – AAA Framer
Alien Skin – Eye Candy 5 – Impact – Perspective Shadow
Carolain and Sensibility – CS-LDots
dsb flux – Gears
frischluft – GlasSphere
Toadies – Weaver
You can find the plugins Here
The translation is written with PSP 2018, but can also be made with other versions.
Colors Used

Note : When working with your own colors , play with the Blend Mode and/or Opacity at your own discretion
1
Material Palette Foreground Color Color 1 # 504242 / Background Color Color 2 # bcc2be

Create a Retangular gradient in the Foreground
Angle 0 / Repeats 0 / Invers Unchecked
Center point /  H 25 / V 25
Focal point /  H 61 / V 63
Link Unchecked

Open the Alpha file Alpha-Auxane-VSP
Fill in the gradient
Effects – Plugin dsb flux – Gears

Effects – Plugin Toadies – Weaver

2
Layers – Duplicate
Effects – Plugin AAA Filters – AAA Framer

Effects – Plugin AAA Filters – AAA Framer / Width 50

Effects – Plugin AAA Filters – AAA Framer / Width 25

Effects – Image Effects – Seamless Tiling

Layers – Merge – Merge Down
3
Selections – Save/Load – load selection from Alpha Channel Selection # 1

Layers – New Raster Layer
Fill in the color 3
Selections – Select None
Layers – Duplicate
Layers – Merge – Merge Down
4
Open the tube Deco1-Auxane-VSP – Copy – Paste as New Layer
Effects – Image Effects – Offset

Layers – Merge – Merge Down
5
Selections – Save/Load – load selection from Alpha Channel Selection # 2

Layers – New Raster Layer
Fill in the color 4
Selections – Select None
Layers – Properties – Blend mode Soft Light
Effects – Plugin Alien Skin – Eye Candy 5 – Impact – Perspective Shadow / Preset Shadow1-Auxane-VSP

Or enter these settings

Layers – Arrange – Move Down
Your Layer palette looks like this

6
Layer palette – Click the bottom layer
Selections – Save/Load – load selection from Alpha Channel Selection # 3

Selections – Promot selections to Layer
Selections – Select None
Effects – Plugin frischluft – GlasSphere (it takes a little time to load after clicking ok)

Selections – Save/Load – load selection from Alpha Channel Selection # 3Again
Effects – Plugin Carolain and Sensibility – CS-LDots

Selections – Select None
7
Layer palette – Click the top layer
Open the tube Deco2-Auxane-VSP – Copy – Paste as New Layer
Layers – Duplicate
Effects – 3D Effects – Drop Shadow
Color # 000000 / 2 / 5 / 40 / 15

Layer palette – Close the layer (Click on the eye)
8
Layer palette – Click the second layer of the top
Activate the Color Changer Tool

Click with color 3
If you don't have this tool
Selections – Select All
Selections – Floating
Fill in the color 3
Selections – Select None
Your work looks like this
Image – Resize to 101% – All Layers unchecked
Layer palette – Click the top layer /Open the layer (Click on the eye)
Layers – Merge – Merge Down
Your layer palette looks like this

9
Open the tube 13458167154_femmes_nikita – Copy – Paste as New Layer
Image – Resize to 73% – All layers unchecked
Effects – Image Effects – Offset

Effects – Plugin Alien Skin – Eye Candy 5 – Impact – Perspective Shadow / Preset Shadow1-Auxane-VSP as before
10
Layer palette – Click the bottom layer
Layers – New Raster Layer
Fill in the color 1
Open the mask LF-Mask-183 – Minimize
Layers – New Mask layer – From Image LF-Mask-183 / Invert mask data checked

Layers – Merge – Merge group
Image – Mirror – Mirror horizontal
Effects – Artistic Effects – Topography

Layers – Properties – Opacity 50
11
Layer palette – Click the top layer
Layers – New Raster Layer
Fill in the color 5
Open the mask Narah_mask_0670 – Minimize
Layers – New Masklayer – From Image Narah_mask_0670  Invert mask data  not checked

Layers – Merge – Merge group
Layers – Properties – Blend mode Dodge / Opacity 69
Layers – Arrange – Move Down
12
Layer palette – Click the top layer
Open the tube  Titre-Auxane-VSP – Copy – Paste as New Layer
Effects – Image Effects – Offset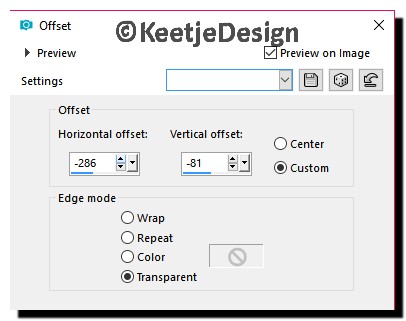 Your layer palette looks like this

13
Image – Add Borders – Symmetrical
2 pixels color 4
60 pixels color 5
2 pixels color 4
14
Open the tube Deco3-Auxane-VSP – Copy – Paste as New Layer
Layers – Merge – Merge All (Flatten)
15
Image – Resize to 900 pixels width – All layers checked
Adjust – Sharpness – Unsharp Mask

16
Sign your work
Save as a Jpeg file
We are done with this beautiful tutorial by Valy
This translation has been tested by Marianne
Marianne  Thank you very much

Another example with a tube of Guismo

© Translation Auxane DesignPSP KeetjeDesign 12-08-2018
This translation is registered with LSBene